Caesar Rodney High School student tellers receive real life work experience at the Del-One Federal Credit Union branch located within the cafeteria of the school.  Both students and teachers can take advantage of the benefits of Del-One FCU by visiting the student branch during lunch hours, and the student tellers learn skills that can assist them in the future.  Student teller Julien Gumus stated, "What I have learned about working at the CR student branch is teamwork and leadership.  Having the opportunity to take initiative and help students with different backgrounds and personalities is a humbling experience.  More importantly though, the ability to work with an amazing team of student tellers is also humbling because it taught me the importance of friendship and leadership."  Del-One has a student branch at both Caesar Rodney and Dover High School, and will soon open a branch at Indian River High School.  For more information on Del-One, call 302-739-4496 or visit www.del-one.org.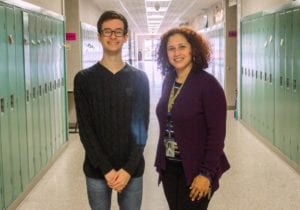 Pictured, L-R:  CR student teller Julien Gumus and CR teacher and student branch liasion Angela Way
Del-One Federal Credit Union is $455 million in assets with 10 full service branch locations throughout Delaware and over 66,000 members.