On Wednesday, December 11th, a grand opening and ribbon cutting ceremony was held at the Rose Hill Community Center to celebrate the installation of a Del-One Interactive Teller Machine (iTM).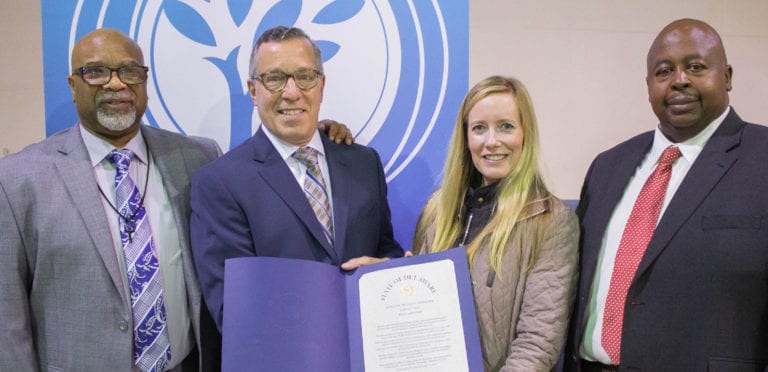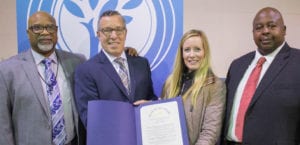 Pictured L-R:  Banking Desert Initiative Co-Founder Ron Handy Sr., Del-One FCU President/CEO Ron Baron, State Treasurer Colleen Davis & Banking Desert Initiative Co-Founder Larry Lambert.
The iTM offers immediate access to a live remote teller during business hours, when a live teller can answer questions and personally assist the member with transactions. The machine also functions as an ATM machine. In addition, Del-One staff will be on site twice a week to assist members.
The opening of the iTM at Rose Hill signifies the beginning stages of an ongoing partnership between Del-One and the New Banking Delaware / Banking Desert Initiative, where a span of area in the Route 9 Corridor from Southbridge to Old New Castle was in need of services from a financial institution.  Residents of these communities voiced their concerns, community leaders came together to address the problem, and the Banking Desert Initiative was formed.  As co-founder of the initiative Larry Lambert stated, "When you don't have financial services for years and generations of people are cashing checks at liquor stores, it starts to change how you look at financial literacy. It changes how you handle money."
Del-One FCU President & CEO Ron Baron became aware of the situation and realized the "banking desert initiative is exactly what Del-One Federal Credit Union has been doing for nearly 60 years; helping people map out their financial pathway in life", and the partnership began. Delaware State Treasurer Colleen Davis presented a proclamation to Mr. Lambert, Mr. Baron, and Mr. Ron Handy, the other co-founder of the banking desert initiative. Ms. Davis stated, "Delaware's Route 9 Corridor is unique; it's history is diverse, and it's sense of community are a beacon that shines as an example throughout the state".
The partnership will continue to grow, as plans of a Del-One Student Branch at William Penn High School, and a full-service Del-One branch at the former Elbert Palmer Elementary School in Southbridge commence. Mr. Baron emphasized Del-One's commitment to the Route 9 Corridor and the Banking Desert Initiative by not only bringing financial services to the area, but also employment as Del-One will hire members of the community to staff the new branch.  Del-One Federal Credit Union is the credit union "that wants to make a difference" and will continue to work with members of this initiative to make a positive change for the approximately 16,000 residents of the Route 9 Corridor.