Del-One Federal Credit Union supports the Latin American Community Center (LACC) in Wilmington in their mission to "empower the Latino Community through education, advocacy, partnerships and exceptional services."
Del-One representatives met with LACC President & CEO Maria Matos, Vice-Chair of the Board of Directors Jose Lopez, and Director of Development and Communications Kelly Scanlan to discuss the history and evolution of the Latin American Community Center.  Ms. Scanlan also gave a guided tour of the facilities and overview of all they do to assist the Latino Community.
Maria Matos stated "the Latin American Community Center is greatly appreciative of Del-One Federal Credit Union's generous $25,000 gift. This gift is unrestricted, meaning the LACC can allocate the funds where we need them most. This type of giving is extremely impactful to nonprofits, as it allows those doing the work to direct funds in ways that will be most impactful to their community members. Del-One has shown their dedication to supporting the Latino community and we look forward to developing this new partnership."
Ronald Baron, President & CEO stated "Del-One is pleased to enter this new partnership with the Latin American Community Center. We have long admired the tremendous work of LACC with credit to its President Maria Matos, the LACC Board and the entire team for their outreach in the Latino community. LACC's programs are transformational and go a long way in giving equitable opportunities in today's challenging world."
Del-One FCU consistently expands its outreach to better support the various underserved and under resourced communities within the areas we serve.  From being a key player in the Banking Desert Initiative in Wilmington to supporting the Pallet Village in Georgetown, Del-One continues to provide financial education and resources to organizations in need of assistance.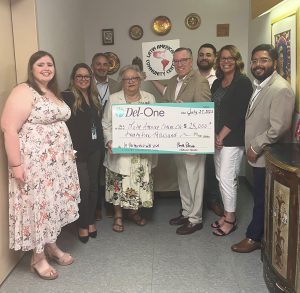 Pictured L-R:  Kelly Scanlan with LACC, Yarmila Rivera-Ortiz & Dan McCarthy with Del-One, Maria Matos with LACC, Ron Baron with Del-One, Jose Lopez with LACC BOD, and Donna Robinson & Adrian Romero with Del-One.