Del-One has supported Project SEARCH since 2014 with financial literacy presentations.  Project SEARCH is a school-to-work program for young adults with cognitive disabilities designed to ease the transition from school to adult life.
In November, Del-One's Georgetown Branch Manager, Veronica Nhan-Nock attended a parent orientation meeting for Project SEARCH Nanticoke.
Terri Hitchens, a parent whose child is a part of Project Search, stated, "I've been afraid to open an account for my daughter.  Once she transitions and has a job with a paycheck she is going to need an account.  Financial literacy is something I never thought about until now.  Thank you for sharing an overview on what you are going to cover in class".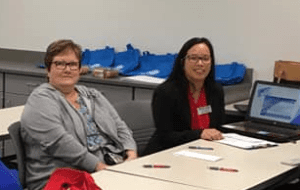 Pictured, L-R:  Terri Hitchens and Veronica Nhan-Nock