Del-One Federal Credit Union has partnered with La Esperanza in Georgetown, Delaware. Serving as a "beacon of hope for the increasing number of immigrants in Sussex County, La Esperanza has evolved into the only multiservice nonprofit focused on building family empowerment among Latinos."
"Jennifer Fuqua and her team are lifting up members of the Hispanic Community, and Del-One Federal Credit Union is proud to partner with La Esperanza with financial literacy programming and a wide range of products," according to Ronald Baron, President & CEO of Del-One FCU. He further stated, "The Credit Union understands the tremendous challenges this community faces and this financial contribution reflects the Del-One mission. We look forward to many years of working together."
Through a partnership with VISA, Del-One FCU donated $25,000 to La Esperanza to help guide individuals and families to effectively integrate into life in Sussex County.
Executive Director of La Esperanza, Jennifer Fuqua, PhD, states "La Esperanza is very pleased to partner with Del-One Federal Credit Union, and thankful for their support. We're excited about the information Del-One has to share, so our families can grow and achieve success here in Sussex County."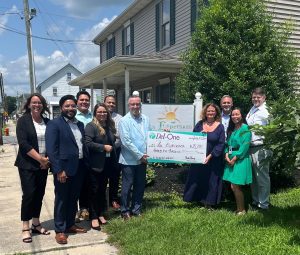 Pictured L-R:  Donna Robinson & Adrian Romero from Del-One, Bryant Garcia from La Esperanza, Yarmila Rivera-Ortiz from Del-One, Dr. Gemez Tull from La Esperanza, Ron Baron from Del-One, Jennifer Fuqua from La Esperanza, Dan McCarthy, Veronica Nhan-Nock & John Chartrand from Del-One.