Del-One Federal Credit Union's Annual Meeting was held on Tuesday, April 25 both virtually and in-person at the Modern Maturity Center in Dover.  Members were able to view the virtual event, and approximately 270 members & employees attended the in-person event.  A delicious meal prepared by the staff at the Modern Maturity Center was enjoyed by all, and many door prizes were awarded. Board Directors elected included William Pfaffenhauser, Gerard McNesby, and Diana Farrell.  Del-One appreciates and values the guidance and expertise provided by all the amazing volunteers that continuously give of their time and talent to serve on the Board of Directors.
Both Board Chair Steve Smith and President/CEO Ron Baron spoke of Del-One's performance in 2022. Membership numbers continued to grow, asset quality remained strong, and net income for the Credit Union was the highest it has been in the last ten years. Mr. Baron stated: "Del-One is poised to continue to be the beacon of hope when it comes to guiding every Delawarean on their financial journey."
Board Chair Emeritus Nancy Shevock presented Director of Internal Audit Edward Mason with the 4th Annual R. Bryce Breezy Brown Service Award.  This award, named for former Del-One Board member R. Bryce Breezy Brown whose loyalty and dedication truly made a difference, is presented annually to someone who exhibits those same characteristics.  The recipient of this award chooses a charitable organization, and $2,500 is donated to the chosen charity. This year, Mr. Mason chose Autism Delaware to receive the monetary contribution. 
Also, during the annual meeting, two Delaware high school seniors were recognized for winning $2,500 college scholarships and employees of Del-One were recognized for years of service and accomplishments. Director of Consumer Lending Brian Kaye received the President's Award, the Teammate of the Year award was presented to Systems Administrator Jason Coulter, the Georgetown Branch received the Branch of the Year award, and the Department of the Year honor was awarded to the Marketing Department.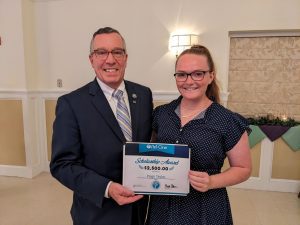 Pictured: Del-One President and CEO Ron Baron and Scholarship Winner Paige Taylor of Woodbridge High School.