Del-One Federal Credit Union's Annual Meeting was held on Tuesday, May 18 both virtually and in-person at the Modern Maturity Center in Dover.  Many members viewed the virtual event, and approximately 125 members & employees attended the in-person event.  A delicious meal prepared by the staff at the Modern Maturity Center was enjoyed by all, and many door prizes were awarded (including those attending virtually)! Board Directors elected included Lisa Strusowski, Trey Wallace and Courtney Stewart. Del-One appreciates and values the guidance and expertise provided by all the amazing volunteers that continuously give of their time and talent to serve on the Board of Directors.
Both Board Chair Steve Smith and President/CEO Ron Baron spoke of Del-One's performance in 2020. Though the global pandemic affected all businesses, Del-One FCU still remained strong and well-capitalized and was able to assist members and the community.  Membership increased by 2% to 72,548 member-owners, and the Credit Union National Association estimated that Del-One provided over $6.4 million in direct financial benefits to its members in 2020.  Also, as 2020 was the 60th anniversary for Del-One, the credit union developed and exceeded a "60 Acts of Kindness" goal to benefit the community.
Director Emeritus and former Board Chair Nancy Shevock recognized Betty Baker and Bob Seaberg, two individuals who passed away recently and were very important to the history of Del-One.
Board Director Dr. Lisa Strusowski was awarded the 2nd Annual R. Bryce Breezy Brown Service Award.  This award, named for former Del-One Board member R. Bryce Breezy Brown whose loyalty and dedication truly made a difference, is presented annually to a volunteer who exhibits those same characteristics.  The recipient of this award chooses a charitable organization, and $2,500 is donated to the chosen charity. This year, Dr. Lisa Strusowski chose the Meals of Hope program, an initiative with the Dover Capital City Rotary Service Club that assists in feeding those in need in the local community.
Also, during the annual meeting, two Delaware high school seniors were recognized for winning $2,500 college scholarships, and employees of Del-One were recognized for years of service and accomplishments.  Facilities Manager Sean Kemp received the Teammate of the Year award & the Wilmington Branch received the Branch of the Year award.  There were two Departments of the Year; the Contact Center and the Information Technology Department, and Director of Marketing Amy Resh received the President's Award for 2020.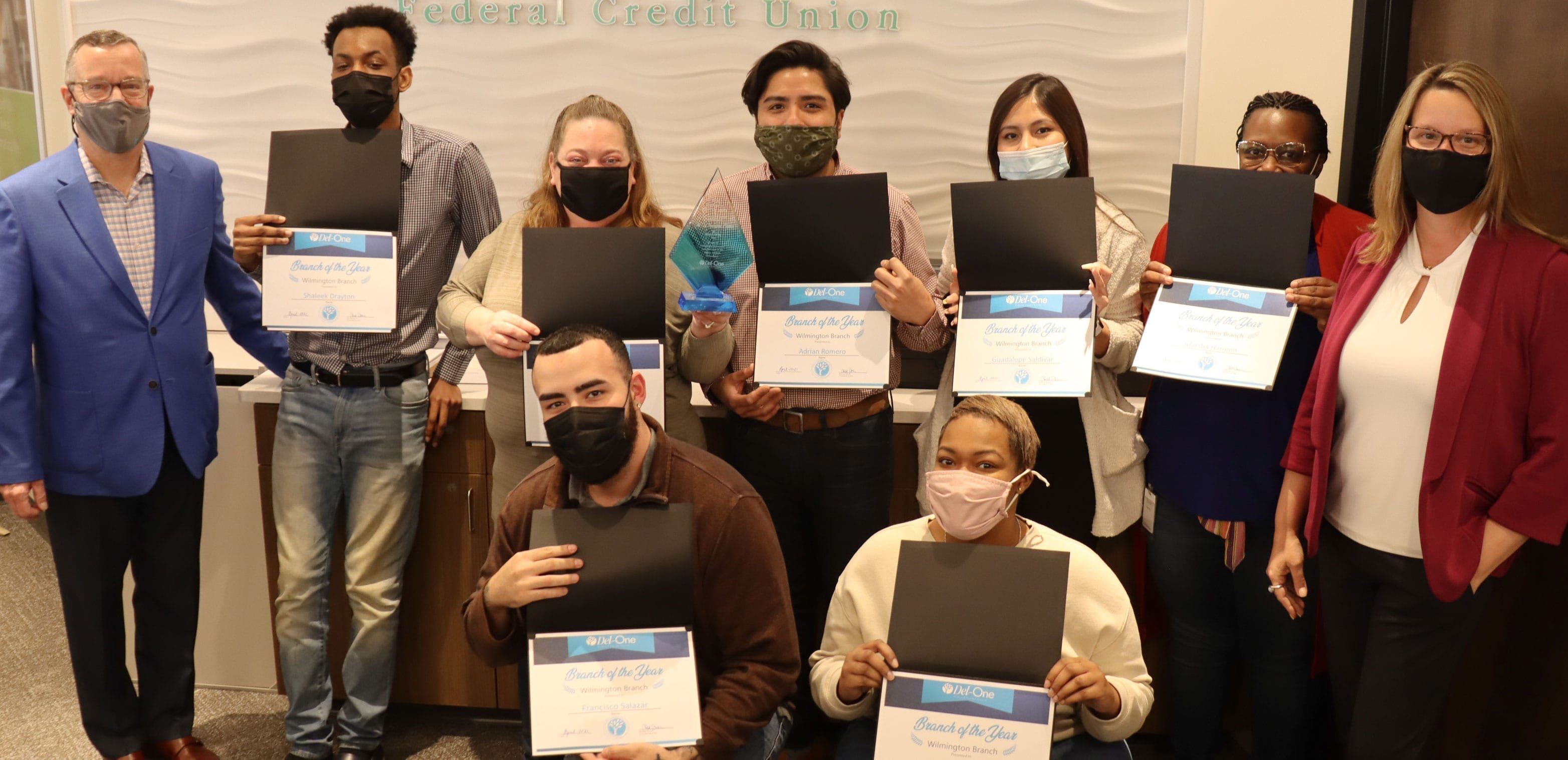 Wilmington Branch = Branch of the Year
Pictured. L-R:  Front Row:  Francisco Salazar & Tiera Davis. Back Row:  President/ CEO Ron Baron, Shaleek Drayton, Maureen Haut, Adrian Romero, Guadalupe Saldivar, Marsha Harmon, & Donna Robinson