The Del-One Foundation donated to the Dover Art League which provides "opportunities for local artists of all ages and skill levels to explore, develop, and market their creations". President Ginny Jewell thanked the Board of the Del-One Foundation for providing support to allow the Dover Art League to "continue in our mission to connect our community through the power of the arts".  Visit www.thedoverartleague.com for more information including how to register for or teach classes, attend upcoming events, volunteer, and more.
The Del-One Foundation raised and is donating $58,000 to local charities in 2022 and is proud to support this deserving organization.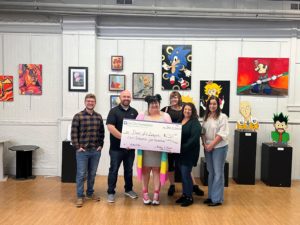 Pictured L-R:  Justin Smith & Ryan Bowman from Del-One, Chelsea Memmolo from Dover Art League, and Heather Gunter, Amy Resh and Jennifer Ellis from Del-One.