Members of the Banking Desert Initiative Advisory Board, along with other community members and employees of Del-One Federal Credit Union, met on Saturday, February 11th at the Rose Hill Community Center in New Castle, Delaware.  The Banking Desert Initiative was formed by Del-One FCU, Banking Desert Coalition, and Rose Hill Community Center in 2019 to benefit an area in the Route 9 Corridor spanning from Southbridge to Old New Castle, where residents were in need of the services of a financial institution. Co-Founders Larry Lambert and Ron Handy Sr. met with Del-One's President & CEO Ron Baron to discuss ways to work together to assist the residents. 
Since the endeavor began in 2019, Del-One FCU has remained committed to bringing financial wellness to the community.  An interactive teller machine (iTM) was installed in the Rose Hill Community Center.  The iTM offers immediate access to a live remote teller who can answer questions and assist the member with transactions.  Del-One has also been actively involved with area community events, food, clothing and school supply drives, programs with William Penn High School, providing financial literacy curriculum for the Colonial School District and various civic organization sponsorships.  Quarterly Small Business Forums are also held to assist small business owners or upcoming entrepreneurs. The next Small Business Forum will be held on Saturday, March 25, 2023 at 9 AM at the Rose Hill Community Center.
The February 11th meeting was held to discuss community engagement and future development opportunities, ideas for additional involvement and marketing, and other ways to develop relationships and assist members on their financial journeys. President and CEO Ron Baron stated that Del-One looks forward to continuing the Banking Desert Initiative "until every citizen has a financial roadmap."  Visit www.del-one.org/banking-desert-initiative for more information.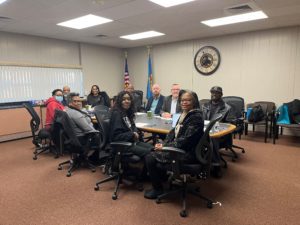 Pictured:  L-R:  Dara DuPont, Ron Handy Sr. Irene Butts, Chavonya Reddick, Marie Reed, Larry Lambert, Marc Kidwell, Ron Baron, Rosie Tooley & Clayton (CJ) Joyce