Del-One Federal Credit Union President/ CEO Ron Baron visited the new location for Lazarus Education Services Inc. (LESI) at 719 East 10th St. in Wilmington.  Mr. Baron was given a tour of the new facility by LESI Director, Dr. Rosie Tooley.
With plans to open soon, LESI will offer business training, microlending, rental offices, storage space and mailbox services.  Dr. Tooley will "oversee operations and instruction at LESI to develop the existing business skills of highly motivated, innovative and entrepreneurial Returning Citizens and Veterans." Dr. Tooley excitedly showed Mr. Baron the new location and pointed out some of the various updates including new flooring, paint, HVAC units, and security systems.  Dr. Tooley also informed Mr. Baron that LESI will be a Proctor site for the NorthStar Digital Literacy Certification Program. This program defines basic online and computer skills. Individuals visit an approved testing location and obtain the Northstar Digital Literacy Certificate when they pass assessments. These certificates can then be used as credentials when seeking employment. Dr. Tooley is proud to have LESI approved as a testing location for these certifications. 
Dr. Tooley and Mr. Baron became acquainted through the Banking Desert Initiative, which was established to benefit an underserved area of New Castle County where residents needed the services of a financial institution.  That initial acquaintance has since grown into a partnership fueled by mutual respect and a desire to improve the financial health of communities through financial literacy training.  Mr. Baron serves as a Financial Advisor for LESI, where he is instrumental in providing financial oversight for LESI's operations.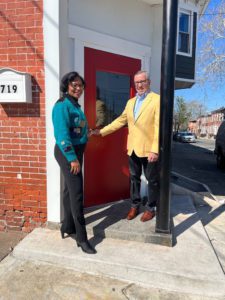 Pictured L-R: Dr. Rosie Tooley & Ron Baron