Del-One Federal Credit Union kicked off 60 Acts of Kindness to celebrate 60 years in business by recognizing local law enforcement for National Law Enforcement Day on January 9th!
Business Development Representatives Brandy Buzzuto and Amy Durham, along with Middletown Branch Manager Chavonya Lambert visited the Middletown Police Department, dropped off lunch, and was given a tour of the facility by Sargent Scott Saunders. 
Thank you to all our local law enforcement for keeping us safe!
#DelOne60Acts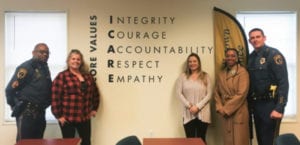 Pictured L-R – Sgt. Scott Saunders, Brandy Buzzuto, Amy Durham, Chavonya Lambert and Lieutenant Matthew Fox.