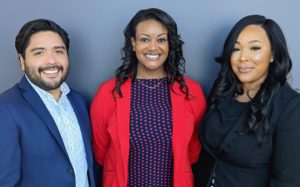 Pictured L-R:  Adrian Romero, Dr. Shallon Poulson & Christy Johnson. 
Del-One Federal Credit Union is proud to announce the addition of Dr. Shallon Poulson as the new Director of Compliance. Shallon joins Del-One with over 16 years of experience in the financial services industry, and over 10 years of compliance experience.
Shallon received her Bachelor's degree in Business Management from Delaware State University in 2007, a Master's degree in Business Administration from DSU in 2012, a Master's degree in Accounting from Wilmington University in 2014, and a Doctorate in Business Administration from WilmU in 2020.
Outside of work, Shallon enjoys shopping, bowling, going to the beach, eating at restaurants with delicious food, spending time with her family, and giving to those in need.
Additional updates to the Del-One team include the promotions of Christy Johnson and Adrian Romero to Assistant Directors of Branch Operations. Christy Johnson joined Del-One in 2017, and Adrian joined in 2016. They both held the positions of Branch Manager until 2019, when they were promoted to Regional Branch Managers, overseeing their own branch as well as several other Del-One branches. As Assistant Directors of Branch Operations, they will focus solely on developing and leading the Branch teams.
Donna Robinson, Director of Branch Operations states: "Christy and Adrian represent all that is good about Del-One in their consistent focus on branch culture, teammate development, member service, and overall performance. I am excited to continue leading and working with Christy and Adrian and know that they will take our Branch teams to the next level."