Several Del-One teammates attended the MD/DC CUA's Young Professionals Network Annual Summit in October.  "The sold-out event titled Momentum 2022 was billed as a conference for young professionals by young professionals and featured a mix of networking, professional development, and philanthropy."  Del-One's Business Intelligence Analyst, Christina Reilly, was awarded the Miriam Lieb Emerging Leader Award for 2020, which honors the legacy of the credit union advocate and leader and recognizes a 40 or under CU professional who demonstrates leadership qualities and shares Lieb's dedication to the CU movement. 
Horacio Garcia-Korosec, Director of Business Intelligence for Del-One, serves on the Young Professionals Advisory Board, was part of a YP panel during the event, and assisted the Board in organizing the event's agenda. 
Other attendees from Del-One included Enterprise Solutions Manager Jennifer Ellis, Loan Processor Krystal Cubbage, Operations Support Manager Travis Neal, Director of Compliance Shallon Poulson, and Assistant Director of Branch Operations Adrian Romero.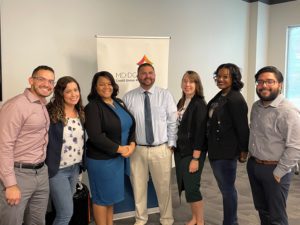 Pictured L-R from Del-One FCU:  Horacio Garcia-Korosec, Jennifer Ellis, Krystle Cubbage, Travis Neal, Christina Reilly, Shallon Poulson, and Adrian Romero