Del-One Branch Information
Appointment only for Member Service Transactions and Branch lobbies are open for Teller Transactions
Schedule an appointment during normal branch hours for your essential banking needs: Make an appointment today! All Member Service visits will be BY APPOINTMENT ONLY  for ESSENTIAL transactions. Please utilize our live tellers in our drive thru to handle most of your transaction needs. You can also schedule an appointment by phone by calling (302) 739-4496.  Effective 4/28/20, anyone entering a branch MUST have a face covering.
Rose Hill Community Center – 19 Lambson Ln, New Castle, DE 19720 – Del-One branch is closed until further notice.
The Newark branch will be closed on Tuesday, October 13
All other Del-One Branches are operating on regular branch hours. Check back for updates and changes
Stimulus Check Information
Dear Del-One FCU Members,
An important part of the CARES Act stimulus package is one-time payments to eligible individuals. The payment, which the IRS is calling an "Economic Impact Payment," and many people are calling a "stimulus check" is expected to begin processing as early as April 15.
The best resource for information is the IRS website, irs.gov, click the section called 'Economic Impact Payment'.
For direct deposit into your Del-One FCU account, you will need the following information: 
Del-One FCU Routing Number: 231176554

Full Checking Account Number (Draft ID)
If you want your stimulus check deposited into your Savings, use only your Member Number.
* Transactions with incorrect information may be returned unpaid.
Your Draft ID can be found at the bottom of your Del-One checks, as seen below. Contact us for your Draft ID information if you do not have checks.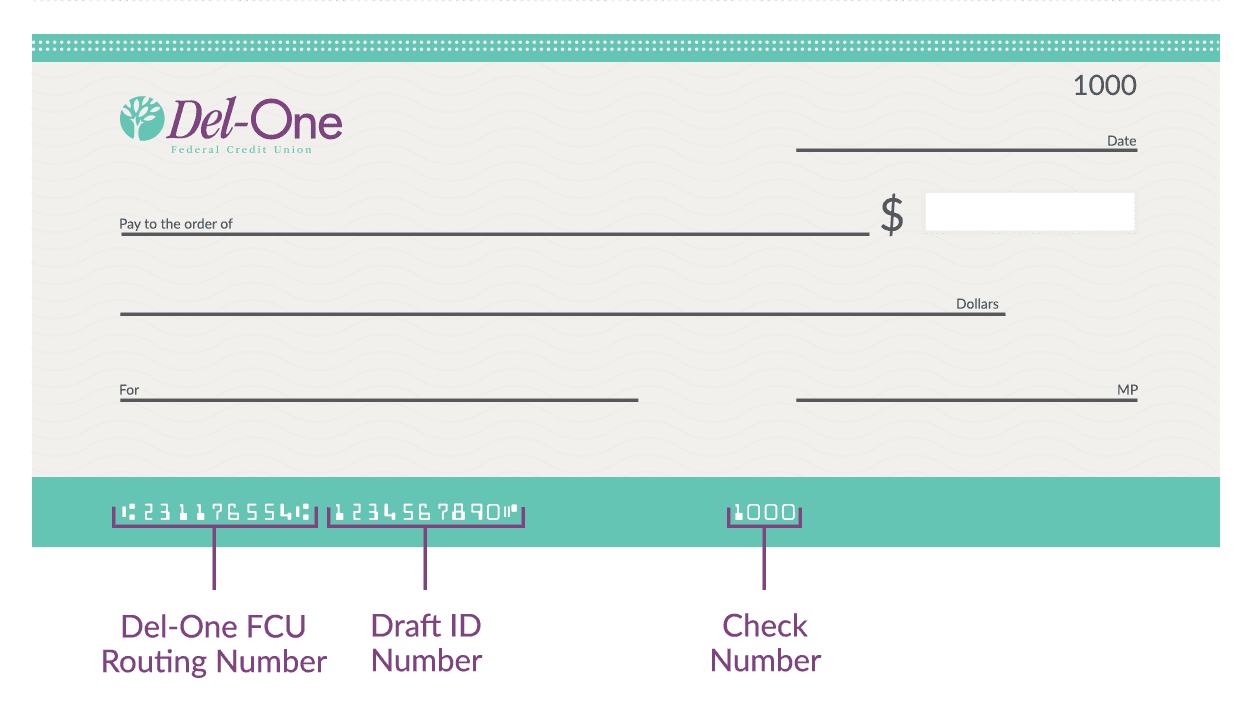 A message to our members from our CEO
Dear Del-One FCU Members,
Our commitment to you has been and will continue to be to regularly communicate with you during this pandemic. These letters and all the other ways we reach out to you, enables you to know what we are doing to maintain services to our members, while keeping everyone safe and healthy. Aside from letters, we are providing timely and (in some cases) daily/hourly updates on our web site (del-one.org), social media and email messaging.
Temporary Branch Closures. The Credit Union's Business Continuity Plan is working. Guided by this very detailed Plan, management can keep operations running as close to normal as possible during this pandemic. Last Tuesday, March 24, 2020, the Newark, Downtown Dover, and Dagsboro Branch Offices were temporarily closed. All other Branch Offices are open, normal hours. Our staff, like everyone else, is impacted with situations that prevent them from being at work. While we are sorry for the inconvenience these closures may cause some of our members, they are necessary as we need to deploy staff from the closed branch offices to others that remain open. We all look forward to the end of the pandemic when life will return to normal and all Del-One Branches are open for business.
Live Tellers! Del-One FCU has one of the most extensive number of Interactive Teller Machines (or ITMs) in the State of Delaware. These ITMs allow you to do most transactions you can do at the teller line. Del-One's ITMs are Live Teller Machines! With the touch of the screen you will be connected to a live teller. You don't need a debit card to use the Live Teller Machine! Most of these machines are found in Del-One's drive thru lanes. Our ITMs are clearly a step-up in member service!
Branch Office Visits. If you have an essential transaction that can only be completed with the assistance of one of our associates and you feel healthy and deem yourself to be reasonably low-risk based upon the information that has been disseminated from health care officials, we are happy to help.  However, we are strongly encouraging members to utilize any of our remote services to limit in-person interactions to the greatest extent possible.  In order to keep everyone safe during the pandemic, Del-One is requesting that you remain home if you have flu-like symptoms or suspect you may have symptoms. This is the responsible and moral thing to do, during these times. Using the Live Teller Machines are a great alternative to physically coming into the Branch.
"Name or member number, please?" Expect to hear this as you enter the Del-One Branches. Our staff will request this from you as we are limiting the number of members in our offices at any given time to 10 individuals or less. Our staff will take your information, you will be asked to wait in your vehicle, and we will call or text you when you are next to be served. You will not lose your place in line. This process is necessary to maintain the Federal and Delaware requirements for social distancing.
You need us, we're here! Please reach out to us with your questions or concerns by calling our Contact Center at 302-739-4496. Our agents are ready to assist you or direct you to the right department. We recognize the challenges we are all facing, right now, and Del-One wants to do everything possible to ease your financial anxieties or problems.
The COVID-19 Pandemic has altered the normalcy of our lives. By following Federal and Delaware Coronavirus guidelines and requirements, we will regain our normal lives with the expulsion of the virus. We can all help with this effort by putting aside our individual needs and behave in a way that serves the greater good of the community. Let us pray for this illness to pass quickly, for the protection of our first responders and health care workers who are risking their own lives to care for others affected by the virus.
On behalf of every one of my teammates at Del-One Federal Credit Union, it is our pleasure to be of service to you and we appreciate you, our member/owners.
Stay safe and healthy,

Ron Baron, MBA
President and CEO
Del-One Federal Credit Union
Let us serve you - Emergency Assistance Loan
Del-One understands the concern and uncertainty created by the current situation in our local community, the United States and around the globe. We have made it a goal to take care of our members who might be financially affected by the COVID-19 outbreak and created a Loan Program to assist those in financial need.

Additional Assistance
Del-One is here to help small businesses! Please contact us at (302) 672-1406 to discuss emergency loan options.
Additional Government assistance for small businesses: Click Here
For mortgages with Del-One, please contact Midwest Loan Services at (800) 262-6574 or email the loss mitigation department at

[email protected]

For other loans with Del-One, please contact us at (302) 739-4496 to discuss deferral options
Have loans somewhere else? Many lenders are offering skip pays and deferrals on their loans. If you are having financial difficulty in paying your loans with other lenders, please be sure to reach out to those lenders to assist in working out a solution to meet your needs.
Avoid Scams
Beware of scammers posing as the Small Business Administration (SBA) or other government entities offering emergency relief grants or loans.
Don't release any private information (Social Security numbers, credit/debit card or account information) in response to an unsolicited call, letter, or email.
Legitimate government entities do not charge upfront fees.
Always visit the legitimate website by searching or typing it in yourself.  Some links can be "spoofed."
Legitimate government entities will have websites and emails that end with .gov such as http://www.sba.gov
Report scams to the BBB, the SBA, and the Attorney General.
Contact your local Credit Union or SBA office if you're not sure how to apply for emergency relief loans.
Information about the COVID-19 Coronavirus and your Credit Union
Del-One Federal Credit Union is committed to safeguarding the health of our members and staff. As we monitor the spread of COVID-19 (Coronavirus), we want to keep you informed of our actions and policies to keep you protected.
We are closely monitoring guidance from the Centers for Disease Control and Prevention and local health officials for guidance to inform our decisions.
In the event we do need to adjust our hours or close a location, we will provide notice via our website and social media. For anyone who is concerned with being in public and wants to limit potential exposure, Del-One's Online Banking services, mobile banking and calling our Contact Center are great options.

Do your part to help prevent illnesses:
Staying home if you are sick
Wash your hands often with soap and hot water
Use the hand sanitizer stations when visiting Del-One locations
Avoid touching your eyes, nose, and mouth
Avoid close contact with people who are sick
Cover your cough or sneeze with a tissue or your elbow
Clean and disinfect frequently touched surfaces