MAKE LIFE—AND SHOPPING— EASIER WITH THE POWER OF VISA® PLASTIC
Digging around for change or writing checks is not the way you should be spending your time. Speed up the purchasing process with our credit union's Visa® debit card that comes free with your checking account. And they're instantly issued—just stop by any branch to pick up your card in minutes!
Fast, free, and easy

Instant-issue cards

Safer than carrying cash

More convenient and safer than checks

Mobile Wallet

– now compatible with Apple, Android and Samsung Pay

24/7 access to funds via ATMs

Easily replaced if

lost or stolen

VISA debit fraud prevention:  877-253-8964
Customize your
debit card
Design your debit card to reflect your personal style! For only $10, you can have a custom picture printed on your card.
We also offer pre-customized options such as school-branded cards, as well as limited-time awareness-branded cards for various causes, including Breast Cancer and Autism Awareness.
Click here for more information.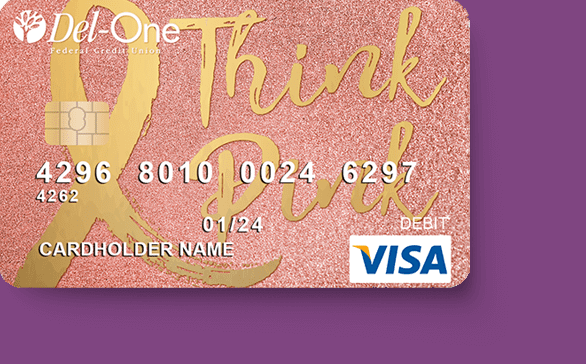 DON'T QUALIFY FOR A CHECKING ACCOUNT? WE'VE GOT YOU.
At Del-One, financial independence is at your fingertips—literally. Our new reloadable debit cards* serve as a convenient alternative to traveler's cheques and a solution if you don't have or don't qualify for a checking account. They're also a great option for students seeking financial freedom!
Our reloadable debit cards offer:
No credit check

No overdraft fees

No need to carry cash
Get instant online account access for your reloadable debit card.
*Purchases can be made anywhere Visa® is accepted, and cash can be withdrawn at any Visa, Plus, Pulse, or Co-op ATMs. Cards may be purchased for $5 at any branch and are replaceable if lost or stolen. Personalized embossed card will be mailed within 7 to 10 business days. Funds loaded at Del-One FCU branches will be available within 24 hours. Funds loaded online at www.cumoney.com will be available in 3-5 business days; initial load is free, subsequent loads are $0.50 each. Monthly maintenance fee of $1.75 per month will occur. The card holder must be a Del-One FCU member.