DEVELOP GOOD MONEY HABITS EARLY ON WITH OUR YOUTH PROGRAM
College is just a few years away and it's never too early to get on the path to financial success. Start off on the right foot with our accounts that come with extra perks!
The program is available to young savers up to 18 years old and requires a $5 minimum deposit to open.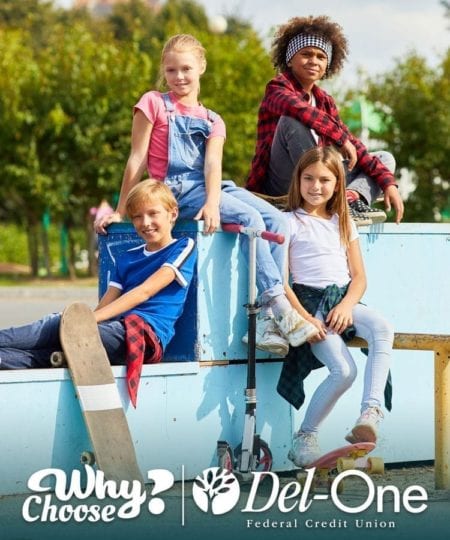 Open an Account*


Receive 5 Points

Attend a Del-One Event

*(ex: Community Appreciation Day)
Receive 5 Points

Attend a Del-One Seminar

*
Receive 5 Points

Open a New Product

*
Receive 5 Points

Bring in Your Birthday Postcard from Del-One Federal Credit Union

*
Receive 5 Points

Bring in Your Most Recent Quarterly Report Card and Earn

*
For every A¹ receive 2 Points
For every B¹ receive 1 Point

Make a Deposit

* (Per Day)
Receive 1 Point

Bring in 20 Earned Points

*
Receive a $10 Deposit² into Your Account
*Youth members must be present to receive Points. ¹Other grading scales will be accepted. ²Can earn $10 deposit per month with 20 Points each month. All information is current as of 10/2022 and is subject to change.
WHY SHOULD YOU APPLY FOR A YOUTH SAVINGS ACCOUNT?
No minimum deposit to open
Competitive dividends on balances over $100
Establish the importance of saving money
from an early age
Youth member benefits
Scholarship Application
We reward two college scholarships to Delaware high school seniors each year!
Fill out an application
today and you could be one of the winners!
Point-Based Rewards
Gain points by attending events and seminars, making deposits, and showing us your good grades! For every 20 points, you'll receive a $10 deposit* into your account! 
* Maximum limit of $10/month.
Reloadable Debit Cards
Make purchases online and in-stores anywhere Visa® is accepted! The set limit makes it easy for you to control your spending.