Become a Select
Employer Group
BECOME A SELECT EMPLOYER GROUP AND SHARE THE CREDIT UNION BENEFIT WITH YOUR EMPLOYEES!
Del-One FCU can provide the credit union benefits to your employees absolutely free with our Select Employer Group partnership. Del-One FCU offers this service at no cost. It is a win-win situation, so don't miss out!
Advantages to the
EMPLOYER
MORALE BOOSTER
Provides services to help your employees handle their finances.
BURDEN RELIEF
Give employees an easy way to obtain low interest loans, low or no fee services, and other convenient products that help reduce requests for pay advances and loans from the employer.
FREE ADVERTISEMENT OPPORTUNITIES
SEG of the Month
Small Business Saturdays
Sponsorship Opportunities
Social Media Blasts
Website Promotions
Advantages to the
EMPLOYEE
SAVINGS PROGRAMS
QUALITY OF LIFE
By paying no monthly service fees, employees can put more of their paychecks into their pockets.
CONVENIENCE
On-site membership sign-ups at your benefit fairs and employee events
Payroll Deduction
Mobile App with Check Deposit
Access to Trends – Online Banking
11 Branches
Extended Drive-up Hours
FREE FINANCIAL RESOURCES
Lunch and learn programs, seminars, and other educational opportunities.
Each month, we celebrate a Select Employer Group that has chosen
Del-One to help improve their employees' quality of life and boost their business.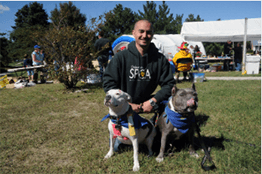 DELAWARE SPCA
Since 1873, The Delaware SPCA, a private nonprofit organization, has been dedicated to enhancing the well-being of companion animals with their human caregivers and communities. The organization promotes the humane treatment of animals by providing adoption opportunities, low-cost veterinary services and educational programs. It relies primarily on support and donations from the community and individuals.
HAVE A QUESTION ABOUT BECOMING A SELECT EMPLOYER GROUP?