WANT TO BECOME A DEL-ONE MEMBER?
Del-One Federal Credit Union has been proudly helping members reach their goals since 1960. Applying to become a member of Del-One is quick and easy, simply fill in the online membership application below. Want to join in person? Please schedule an appointment, and visit any of our branches with the following: Proof of Eligibility, Driver's License, and $5 for the initial deposit.
WE'RE EXCITED TO HAVE YOU JOIN THE DEL-ONE FAMILY
Before we can open your new account, Del-One has to ensure you fall into our Field of Membership. You may qualify for membership if you have any immediate family or household members who already have an account. You may also qualify through your employer or based on where you live, work, worship, or attend school.
If you don't fall into our standard field of membership, but are a resident of Delaware or any adjacent bordering counties in Maryland or Pennsylvania, you may still be eligible to join through the Del-One Foundation.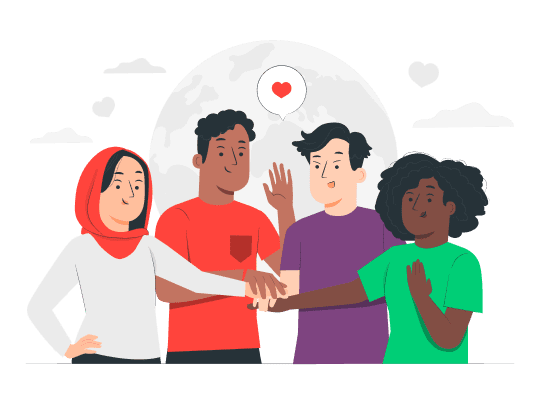 Immediate Family or Household Members
Immediate family members include: Spouse, children, step-children, parents, step-parents, siblings, step-siblings, adopted children, grandparents, and grandchildren.
Household members include: Individuals living in the same residence, domestic partners, anyone who lives in the household that can prove a degree of permanency, live-in nannies, domestic workers, and foster children.
All full-time, part-time, and seasonal/casual/temporary employees, and elected and appointed officials of the State of Delaware.
All full-time, part-time, and seasonal/casual/temporary employees, and elected and appointed officials of any of Del-One's Select Employer Groups.
Eligible Locations
People/businesses/legal entities who live/work/worship/attend school within any of our community chartered areas below:
Select Employer Groups
Employees & Volunteers for the Cities/Towns of: Camden, Cheswold, Delaware City, Delmar, Dover, Elsmere, Georgetown, Harrington, Lewes, Middletown, Milford, Millsboro, Milton, Rehoboth, Smyrna, Wilmington (Exception: City of Wilmington Public Safety employees, Wilmington Police and Fire FCU)
Ahl and O'Connor Orthodontics
All American Mortgage
Allen Harim Foods, LLC
Allure Hair Salon
Associates International
AstraZeneca, Inc.
Auto Plus and Marine
Avalanche Strategies, LLC (previously ERevolution Ventures)
Augusta Grille
Bally's Dover Casino Resort
Bayshore Ford & Mitsubishi-Fuso
BBSI (Barrett Business Services Inc.)
Beracah Homes, Inc.
Better Business Bureau of Delaware
Big Brothers Big Sisters of Delaware (Employees and Volunteers)
Blue Hen Corporate Center and Mall (regular employees)
Boyd's Custom Remodeling Inc.
Burger Kings owned by Interstate Equities
Burke Equipment Company - Camden, Delmar, & Newark locations
Burris Foods
C.A.A.N. - Comeback Athletes & Artists Network Inc.
Caesar Rodney High School (staff & students)
Carey's Diesel
Carey Insurance and Financial Services
Caring Hearts Home Care LLC
Catholic Diocese of Wilmington, inc.
C.B.I. Group
Central Delaware Chamber of Commerce
Central Delaware Habitat for Humanity
Century Engineering
C.F.T. Ambulance
Chamber of Commerce for Greater Milford
CHEER Center of Delaware
Choices for Community Living, Inc.
Clarion Hotel
Comcast Cable of Kent County
Connecting Generations
Connections CSP, Inc.
Corporate Interiors
Corporate Kids Learning Center
Corrado Construction & Management
Courtland Manor
Creative Flooring Contractors, Inc. - Smyrna
CRODA/ Uniquema
Culligan Water Conditioning Co. (Central DE Water Conditioning Co.,Inc.)
DART
Dassault Falcon Jet Corp (formally Atlantic Aviation)
Dawn M. Godbold Bus Contracting
Delaware Adolescent Program, Inc. (DAPI)
Delaware Association for Adult and Community Education
Delaware Association of Realtors
Delaware Charter Schools Network
Delaware Credit Unions: their Directors, committee members, and employees
Delaware Electric Co-Op (employees and members)
Delaware Elevator
Delaware Farm Bureau (employees and members)
Delaware Hospice
Delaware Moving and Storage
Delaware Solid Waste Authority
Delaware SPCA
Delaware State Education Association
Delaware State Fair Inc.
Delaware Technical and Community College: Employees, Students & Alumni members
Delaware Veterans Home
Delaware Volunteer Firemen and Ladies Auxiliaries
Delmarva Cleaning and Maintenance
Delmarva Corrugated Packaging
Delmarva Pole Building Supply, Inc.
Del-One Foundation
Diamond Motor Sports
Diamond State Port (previously Port of Wilmington)
Dover Community Pharmacy
Dover Housing Authority
Dover Mall (except Sears) and Dover Commons (regular employees)
Eagle Erectors
Eagle Steele Products, inc.
Easter Seals
Eastern Shore Energy
Elizabeth W. Murphy School
Encompass Health
Epic Marketing
Excel Business Systems, (Newark DE)
Expanding Our Children's World Daycare
First State Signs
Fitzgerald's Auto Salvage
Food Bank of Delaware
Franklin Company (The)
Fred Drake Automotive
Frederica Senior Center
FuturTech Consulting, LLC
General Teamsters Local Union 326
Generations Home Care, Inc.
Girl Scouts of the Chesapeake Bay
Goodwill Industries of DE
Graham Packing (formerly Liquid Container L.P.)
Greater Seaford Chamber of Commerce
Grotto Pizza, Inc.
Halpern Eye Associates
Harrington Raceway, Inc.
Heritage at Dover
Hertrichs Auto Dealerships
Historical Vintage Car Club of Delaware, Inc.
Hockessin Community Center, Inc.
Holden Dodge Chrysler Jeep Ram
Home Instead Senior Care of Camden
Homestead , Inc.
Hopkins Automotive
Horizon Services
HSBC (formerly Household Retail Services)
i.g.Burton
Indian River High School (staff & students)
Insley Insurance

International Reading Association
International. Association of Asbestos Workers Local 42 in New CastleCounty: all members
It is Well Healthcare and Medispa
Jamestown, Inc. [Painting and Decorating]
Jobs for Delaware Graduates
Johnny Janosik, Inc.
Joseph Sheeran, Inc. d/b/a EchoData Group
J Skills Construction
Kent County; Employees & Volunteers
Kent Sussex Community Services Inc.
Kiwanis Club
Lady Lifters Gym
La Hacienda
Laidlaw Corporation
Leads Technology
Lessard Builders
Lewes Auto Mall
Little Caesar's Pizza of New Castle
Long and Foster Real Estate, Inc. (Bethany Beach Sales Office)
M.A.G. Towing & Auto Service Center
Main Stay Suites of Dover
Marling's Emergency Water Removal
Martin Oldsmobile/Honda: employees & volunteers in Delaware only
McDonald's - Sanders Management
Meals on Wheels
Metal Masters / Eagle Group
Middletown Chevrolet
Milford Community Band
Mountaire Farms of Delmarva
MV Stevens Auto Sales Inc.
Nanticoke Health Services
Newark Community Cooperative, Inc. (Newark Natural Foods)
Newport Site Employees FCU (merging members)
Ocean Area Tire
Ocean RV Center
Office Pride
Online Consulting
Overhead Door Company
Paradise Companies, LLC
Parkview RV
PATS Aircraft Systems
PC Supplies Inc.
Pearce and Moretto
Penco
Peoples' Place II, Inc.
Physical Therapy Services Inc.
Pinnacle Rehabilitation & Health Center
Pizza King
PJ Fitzpatrick
Plumbers and Pipefitters Local Union 74: regular employees & volunteers in Delaware only
Portable Buildings, Inc.
Pott's Welding and Boiler Repair
Pratt Insurance Inc.
Prestwick House, Inc.
Print Shack, Inc.
Psychotherapeutic Services
Quest Pharmaceutical, L.L.C.
Raymond F. Book & Associates
Read-Aloud Delaware
Realtors (Members of Tri-State REALTORS Commercial Alliance)
Red Queen Tattoo
Resh Salon & Spa
Ricks Clean & Sweep
Right Way Flagging and Sign Company
Robert L. Gallo Industrial Equipment and Supply
Rommel Harley Davidson (Formerly Mike's Famous Harley Davidson)
Rose Hill Community Center
RPJ Waste Services
Schagrin Gas Co.
Schmittinger and Rodriquez, Law Firm of
Scientific Games Corporation
Seaford Professional Center
Service Energy L.L.C.
Shane's Construction LLC
Shortcutz Lawn & Landscape Co.
Silver Lining Home Health Care
Skyways Motor Lodge
Slicer's Camping Trailers
Smyrna Church of Christ
Snow's Painting Service LLC
Soil and Water Conservation Districts (Kent, Sussex, and New Castle)
Southern DE Physical Therapy
SPI Polyols, Inc.
Star Building Services
State of Delaware
State Street Assisted Living
Statewide Mechanical Inc.
Stoney Creek Homeowners Association
Summit Aviation
Sussex County: Employees and Volunteers
Tall Oaks Classical School
Teal Construction, Inc.
Terra Firma of Delmarva, Inc. (formerly P&A Engineering Co., Inc.)
THG Logistics
Thomas E. Moore, Inc.
Thompson Mapping Systems, Inc.
Tidewater Utilities
Today Media
Trinity Logistics
Tupp Sign
United Way of Delaware
Universal
University of Delaware Staff (UD faculty & staff, including Aramark employees)
Wallis Repair Collision Center
Waste Masters Solutions
Wells Fargo Home Mortgage
Westside Family Healthcare
WGMD News Radio
Wicked Wrenches
Wilmington 2000
Wilmington University
WJ Publishing, LLC
YMCA of Delaware (employees only)
Have had the pleasure of dealing with Shari F. Lord on several different different occasions, even in bad situations, she has always made them end as a very positive experience. From the minute you enter her office, you will be in very capable, caring and professional hands. We not only look forward to future business with Del-One due to Shari F. Lord but also enjoy knowing we can recommend family & friends with the upmost confidence of high quality service!
---
I am definitely a proud member of the Del-One community and I appreciate all the great services they provide. They are very helpful in the sense I left my ID in a hurry to get to class and thanks to the women who turned in my ID and the help of my newly released favorite clerk Tizarra, i got my ID back with a smile. Thank you so much and i am greatly appreciative.
---
I love this bank! I've been with them for over 15 years and they give the best service. Lisa Brewer is amazing! She has helped me out so many times and made everything so easy. Her great service is one of my favorite things about this bank. The ladies at the downtown Dover branch are great as well!
---
You May Also Be Interested In…
HELPING MEMBERS REACH THEIR GOALS SINCE 1960
Del-One Federal Credit Union
Helping Members Reach Their Goals
Since 1960
Del-One Federal Credit Union