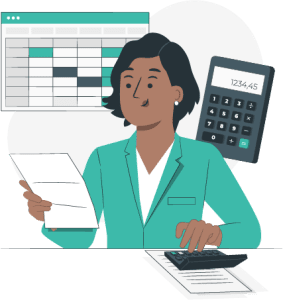 Let's Do The Math



Interactive Calculators
Find answers for some of your toughest financial questions to help you make the right budgeting decisions. Calculate loan payments and mortgage payments based on the term and interest rate.*
Retirement Savings and Planning
Retirement Income Calculator
Use this calculator to determine how much monthly income your retirement savings may provide you in your retirement.
Mortgage Calculators
Home Rent vs. Buy Calculator
Are you better off buying your home, or should you continue to rent?
Mortgage Calculator
Use this calculator to determine your monthly mortgage payment and amortization schedule.
Mortgage Payoff Calculator
Save thousands of dollars in interest by increasing your monthly mortgage payment.
Credit Cards and Debt Management
Personal Debt Consolidation Calculator
Should you consolidate your debt? This calculator is designed to help determine if debt consolidation is right for you.
Snowball Debt Elimination Calculator
This Debt Calculator applies two simple principles to paying off all your Debt that can cut years off of your repayment schedule.
Auto Calculators
Auto Refinance Interest Savings Calculator
Use this calculator to see how much interest you can save by refinancing your auto loan.
Loan Repayment Calculator with Debt Protection
This calculator helps you estimate for your monthly payments or repayment term.
Savings Calculators
Credit Union Certificate Calculator
Use this calculator to find out how much you can earn on a Certificate. Just enter a few pieces of information and we will calculate your Annual Percentage Yield (APY) and ending balance.
Emergency Savings Calculator
This calculator helps you determine how much emergency savings you may need, and how you can begin saving toward this important goal.
Home Buyer Savings Calculator
Use this tool to help you calculate what it might take to save for your new house.