Vehicle Loans
Ready for a new ride? Buy your first vehicle—or make an upgrade—with the help of lenders you can trust. We'll work to get you the best deal, a fast decision, and even pre-approval, so you can walk into that dealership knowing exactly what you want and how much you can spend.
Don't Miss Out on These Offers!
NO PAYMENTS for the first 90 days*
when you purchase or refinance your new ride!
Refinancing?
No payments for the first 90 days plus we'll Beat the Deal1!
We'll beat your current rate by up to 1%1 APR when you refinance your loan from another institution.
Borrow up to 130%* of your vehicle's value!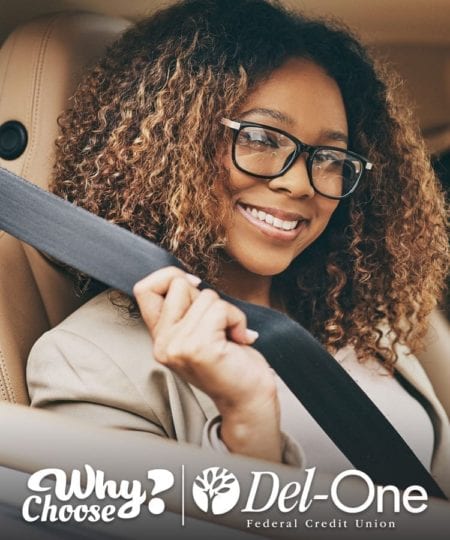 Why Should You Choose Del-One?
Competitively low, fixed rates on new or used vehicles, including motorcycles

A wide range of terms customized to your unique situation

Refinance your current vehicle to potentially lower your rate. Find out how much you could save using our

Auto Refinance Interest Savings Calculator

Finance cars up to 10 years old (the older the vehicle, the shorter your term)

Pre-approval available for extra bargaining power at the dealership




GAP protection available
Note:
Loan products are not federally insured by NCUA
Insurance Verification
If you recently received a letter requesting a current copy of your insurance and haven't already responded or asked your agent to respond to Del-One FCU, you can now submit your insurance information online.
* Conditions/Restrictions apply.  Rates and terms are based on credit worthiness and are subject to change. Maximum loan amount based on credit quality and NADA value. Minimum loan amount $5,000. Eligible vehicles 2012 and newer, mileage under 100,000. Branded titles ineligible. Title must be surrendered. If lien exists, vehicle must be refinanced in full to Del-One. Annual percentage rate not to fall below current floor rate.
 1 Annual Percentage Rate. Up to .75% off current rate from another issuer on unsecured installment or motor vehicle loans and an additional .25% off with Del-One checking with direct deposit or enroll in Auto Pay; no other discounts and APR not to go below floor rate.  If direct deposit or Auto Pay is discontinued at any time during the term of the loan, then any corresponding discount will be forfeited.  Offer not valid on existing Del-One loans or credit cards.
Need Help Finding the Perfect Vehicle?
Looking to purchase a car, truck, or motorcycle? Save time and money with our TRUECar®-powered Car Buying Service!
Make car buying easy, without the stress of haggling over price. See and compare dealer-guaranteed prices and find out what others paid for the car you are considering so you don't overpay.
1.
Research your vehicle
See what others paid for the car you want.
2.
Lock in your savings
Get a Guaranteed Savings Certificate that includes your service savings.
3.
Purchase your car
Take your certificate to the Certified Dealer and buy your car.
If you're a Del-One member, you can go to our Del-One TrueCar.com buying service page to lock in savings on the car of your dreams!
Plan for the unexpected.
Does your family have a safety net if the unexpected hits? Click here to learn more about optional debt protection, to protect your new/existing loan(s), or to file a claim.
Applying Made Easy
Del-One FCU's Dealer Partners Lending Program makes applying for your auto loan easy! Just visit any one of our participating dealer partners and apply for your loan at the dealership. The dealership will complete your paperwork and you can drive away in your new vehicle upon approval!
Are you interested in becoming a Dealer Partner with Del-One Federal Credit Union? Fill out an application today!
Dealer Partner
Location
Atlantic Auto Brokers, Inc
15428 S. DuPont Hwy, Harrington, DE 19952
Boulevard Ford
18443 Coastal Hwy, Lewes, DE 19958
Boulevard Ford/Lincoln
40 Bridgeville Rd, Georgetown, DE 19947
Brandywine Chrysler DJR
3807 Kirkwood Hwy, Wilmington 19808
Cars Made EZ
36365 Sussex Highway, Delmar, DE 19940
Colonial Motors Inc.
205 N, DuPont Blvd
Smyrna DE 19977
Colonial Motors Inc.
4720 S. DuPont Hwy (in front of Lowes) Dover DE 19901
Colonial Motors Inc.
6001 Summit Bridge Rd Townsend DE 19734
Delaware Motor Sales Inc
1606 Pennsylvania Ave, Wilmington, DE 19806
Denton Ford
1207 Double Hills Rd, Denton, MD 21629
Felton Holly Kia
13173 S Dupont Hwy, Felton, DE 19943
First State Chevrolet
22694 Dupont Blvd, Georgetown, DE 19947
Floyd A. Megee Motors Co.
515 N. Bedford St. Georgetown, DE 19947
Frederick Ford Mercury
26905 Sussex Highway, Seaford, DE 19973
Gregory Automotive Group Inc.
975 Frenchtown Rd. New Castle DE 19720
Hertrich Buick GMC Of Salisbury
2016 N Salisbury Blvd, Salisbury, MD 21801
Hertrich Chevrolet of Dover
1450 S. Dupont Hwy
Dover DE 19901
Hertrich Ford of Elkton
503 East Pulaski Hwy
Elkton MD 21921
Hertrich Nissan Jeep
1378 S Dupont Hwy, Dover, DE 19901
Hertrich Of Denton
1123 Industrial Park Way, Denton, MD 21629
Hertrich Of Elkton
1147 Pulaski Hwy, Elkton, MD 21921
Hertrich Of New Castle
120 S Dupont Hwy, New Castle, DE 19720
Hertrich of Pocomoke, Inc
1618 Ocean Highway, Pocomoke City, MD
Hertrich of Pocomoke South
1337 Ocean Highway, Pocomoke City, MD
Hertrich Of Salisbury East
2531 Salisbury Blvd, Salisbury, MD 21801
Hertrich Pontiac Buick Gmc
Po Box 770, Seaford, DE 19973
Hertrich Toyota Scion
1367 Bay Rd, Milford, DE 19963
Hertrich's Capitol
1127 S Dupont Hwy, Dover, DE 19901
Hertrich's Ford Lincoln
1427 Bay Rd, Milford, DE 19963
Holden Dodge
640 S Governors Ave, Dover, DE 19904
Hopkins Automotive
20863 Sussex Hwy, Seaford DE 19973
Ig Burton Berlin
10419 Old Ocean City Hwy, Berlin, MD 21811
Ig Burton Buses
793 Bay Road, Milford, DE 19963
Ig Burton Chevrolet
793 Bay Road, Milford, DE 19963
Ig Burton Chrysler
605 Bay Rd, Milford, DE 19963
Ig Burton Imports
509 Bay Road, Milford, DE 19963
Ig Burton Lewes
17861 Coastal Highway, Lewes, DE 19958
Ig Burton Smyrna Inc
19 S Dupont Hwy, Smyrna, DE 19977
Ig Seaford Chevrolet
24799 Sussex Highway, Seaford, DE 19973
Indian Motorcycle of Wilmington
101 Greenbank Rd. Wilmington DE 19808
Lakeshore Motor Co, Inc.
22586 Sussex Hwy, Seaford, DE 19973
Millsboro Auto Mart/Millsboro Chrysler DJR
28380 DuPont Blvd, Millsboro, DE 19966
Nucar Connection Inc.
174 N. Dupont Hwy
New Castle, DE 19720
Ocean Area Finest
34461 Atlantic Ave, Ocean View, DE 19970
Pittsville Ford
7155 Friendship Rd, Pittsville, MD 21850
Pohanka Honda
2011 N Salisbury Blvd, Salisbury, MD 21801
Pohanka Hyundai
2015 N Salisbury Blvd.
Salisbury MD 21801
Pohanka Mercedes
2013 N Salisbury Blvd, Salisbury, MD 21801
Pohanka Nissan
2012 N Salisbury Blvd, Salisbury, MD 21801
Pohanka Toyota
2010 N Salisbury Blvd, Salisbury, MD 21801
Pohanka Volkswagen
2007 N Salisbury Blvd, Salisbury, MD 21801
Porter Chevrolet
414 E. Cleveland Ave, Newark DE 19711
Porter Ford
600 Ogletown Rd Newark DE 19711
Porter Hyundai
393 E. Cleveland Ave Newark DE 19711
Porter Nissan
300 E. Cleveland Ave, Newark, DE 19711
Preston Ford
4313 Preston Rd, Hurlock, MD 21643
Preston Hyundai
4327 Preston Rd, Hurlock, MD 21643
Preston Mazda
4309 Preston Rd, Hurlock, MD 21643
Preston Nissan
4307 Preston Rd, Hurlock, MD 21643
Price Acura
4575 S Dupont Hwy, Dover, DE 19901
Price Honda
4585 S Dupont Hwy, Dover, DE 19901
Selbyville Holly Kia
38015 Dupont Blvd, Selbyville, DE 19975
Sheridan Ford
4001 Kirkwood Hwy, Wilmington, DE 19808
Sheridan Nissan Llc
114 S Dupont Hwy, New Castle, DE 19720
The Car Store Laurel
28959 Sussex Hwy, Laurel, DE 19956
The Car Store Salisbury
2520 N Salisbury Blvd, Salisbury, MD 21801
The Truck Store
202 N. Fruitland Blvd, Fruitland, MD 21826
The Truck Store
423 S. Dupont Hwy, Dover 19901
The Truck Store
8640 Ocean Hwy, Delmar, MD 21875
Three Brothers Auto dba My Car
3802 N DuPont Hwy, New Castle 19720
Willis Chevrolet Inc
2707 S Dupont Hwy, Smyrna, DE 19977
Willis Ford
15 N. Dupont Hwy
Smyrna DE 19977
Winner Ford (Hyundai)
591 Dupont Hwy, Dover, DE 19901
Winner VW
1367 N Dupont Hwy, Dover, DE 19901